France will always hold that element of romantic idealism. With beautiful, rolling landscapes and warm, welcoming villages it has often been regarded as a perfect getaway. A villa in the South of France is a popular summer holiday destination. Without the faster pace and the drudgery of normal life, France offers leisurely strolls, famously fine dining and a luxurious culture.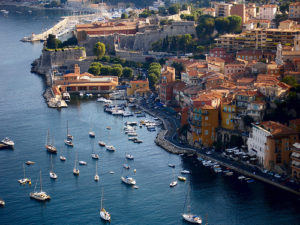 The heat, of course, is a principle temptation, especially towards the south of France and the sea. Warm sandy beaches are a thing of reality, not dreams. Small, local towns here, such as Antibes on the Côte d'Azur are popular destinations. Resort towns such as these provide a multitude of activities to while the time away. Their history is long and patterned, as France was influenced by both the Greek and Roman empire. The architecture of the towns reflects this history and they appear to have stood in one place for hundreds of years without changing. There are numerous museums, some of archaeology or naval history and of course art. France has a history of fabulous artists, Picasso and Van Gogh to name a few. Copies of their work and the story of their lives are displayed proudly in museums across France. Antibes even has its own Absinthe museum, dedicated to the making (and of course, consuming) of the green liquor.
This area has tens of beaches, all reflecting a similar Mediterranean climate and view. Sun-tanning and swimming are obvious choices, but France also has numerous ports which provide moorings for any kind of vessel, from fishing boats to yachts. The Grotte de Niaux has an incredible selection of ancient cave drawings, which are well worth a see – although this must be booked in advance. Queribus and Peyrepertuse both have some beautiful chateaus that make for an excellent day out (some mild climbing involved!). The Bordeaux region is world famous for its wine and most vineyards offer wine tasting and tours.
The best time to visit France would be spring and the middle of autumn. July and August are the worst months to visit, as these constitute the summer holidays, when the schools shut and warm weather vacationing is more tempting. Flying is the quickest form of travel and there is an airport in Bordeaux, although the cheapest is more likely to be the ferry. Driving a car from Calais is a popular scenic choice. However you should always consider a low cost holidays promotion code for an even cheaper deal. Personally I would use a car when I am there, but I would opt for something like the amazing car service in Marseille that we used.
Thoughts of the South of France bring to mind a peaceful, almost rustic vision. The warm, mild climate is a perfect break from harsher atmospheres and yet is versatile enough to offer both a country stay and the delights of the cities, with all their cultural attractions.